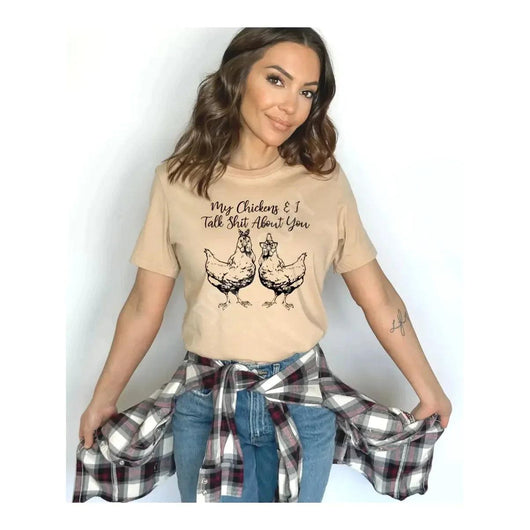 Cluck & Chatter Graphic Tee
Regular price $28.00 Sale
"My chickens & I talk shit about you"
Wear this tee with a smirk and let everyone in on the hilarious banter that happens in the coop. It's not just a tee; it's your badge of honor as a chicken whisperer and the resident stand-up comedian of the henhouse. So whether you're swapping stories with your poultry pals or simply enjoying their company, this tee is your feathered, funny sidekick.
Features: unisex fit, perfect tee with round neckline, short sleeves.
Available in size S-3X.
Measurements:
Small: 34" Bust, Length 27"
Medium: Bust 36", Length 27"
Large: Bust 38", Length 27"
XLarge: Bust 42", Length 30"
2X: Bust 48", Length 30"
3X: Bust 50", Length 30"
Actual colors may vary. This is due to computer monitors displaying colors differently and everyone can see these colors differently.