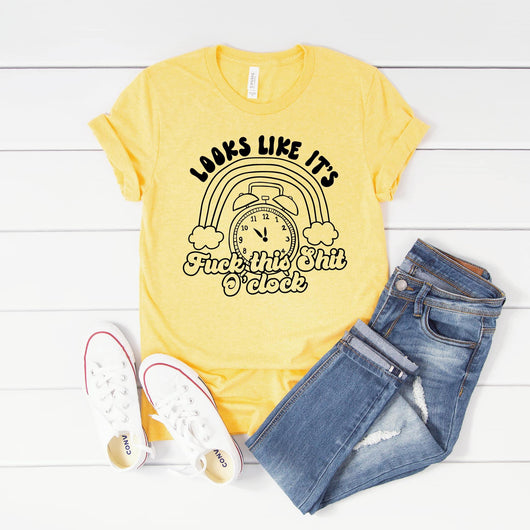 FTS O'Clock Cartoon Graphic Tee
Regular price $28.00 Sale
*Fuck This Shit O'Clock"
Our "FTS O'Clock Cartoon Tee" captures that hilarious moment when you glance at the clock and realize it's officially "F*#! This S#!@ O'Clock." It's the perfect shirt for those times when life's absurdity makes you want to laugh rather than stress.
Wear this tee with a grin and share a chuckle with like-minded souls who understand that humor is the best way to handle life's chaos. It's not just a shirt; it's your hilarious companion for those moments when you decide to keep calm, stay cool, and just go with the flow.
Features: unisex fit, perfect tee with round neckline, short sleeves.
Available in size S-3X.
Measurements:
Small: 34" Bust, Length 27"
Medium: Bust 36", Length 27"
Large: Bust 38", Length 27"
XLarge: Bust 42", Length 30"
2X: Bust 48", Length 30"
3X: Bust 50", Length 30"
Actual colors may vary. This is due to computer monitors displaying colors differently and everyone can see these colors differently.